The advances in technology serve a good purpose in the light of many things that have become possible as a result of new innovations. The range of cell phone spyware that are available today can be used to track the whereabouts of your kids and loved ones. What is exciting to note is that even if you are unable to physically access the target phone, you can still monitor it.
The need for a phone spyware is best understood by parents who need to keep an eye on their as they grow up. Spouses also have a need to watch over their partners, and know what they are up to at anytime. What's more? Employers have an easy way to know what their staff engages in during office hours.
Part 1: Is it possible to spy on someone's target phone without accessing target phone?
NO, to be able to spy on an Android phone, it requires a software installation. However, for iOS devices, this is possible. You need to be able to access the phone user's iCloud credentials to gain access to the phone. Read more bin 2.2 below.
1.1: Cocospy Spy App Without Touching Target Phone
You can use Cocospy app to monitor any targeted iOS phone without accessing it. If you have kids, this spyware can be a life saver and keep you up-to-date as to whom they relate with at anytime. You can sign up for a free account to see how the app works.
Read: Top 10 Best Free Hidden Spy Apps for Android
Part 2:  How to spy Cell Phone Without Accessing Phone
iOS devices can be spied on without physical contact. The Cocospy app has some features that will enable you monitor the iPhone and iPad.
It is important to point out that if you are going to use Cocospy app on iOS devices that have not been jailbroken, then you are in the right place. Other iOS devices that are jailbroken needs to be physically installed with the spyware to use this solution.
It is very vital to make sure that you have the right details about the phone you want to track. To get the best results requires that there is a match of recommended spyware and device type.
You can consult the Cocospy FAQs page for more information: https://cocospy.com/faq.html
2.1: Cocospy iOS Non-jailbreak Solution
Non-jailbreak iOS device spyware is available from Cocospy to enable you have access to the following in the target phone:
Contacts
Text messages
Call logs
Browser history
Apple specific iMessenger
Wi-Fi Networks
Events
Notes
WhatsApp
LINE messages
Location
Other Installed apps
2.2: 3 Exceptions to Non-Jailbeak Devices
For any iOS device that will not undergo jailbreak, the iCloud credentials along with its back up will be needed for efficient monitoring
In case there is no activation of iCloud backup for the target device, there will be a need for physical access
Devices that have 2-factor verification activated on them can also not be accessed without a physical contact.
Read: How to Spy on iPhone Without Installing Software
2.3. How to Spy on Cell Phone without accessing it
To spy on any iOS device, this is what you need to do:
Enter the iCloud account ID
Provide Password
View data remotely.
Here is the Cocospy app page display: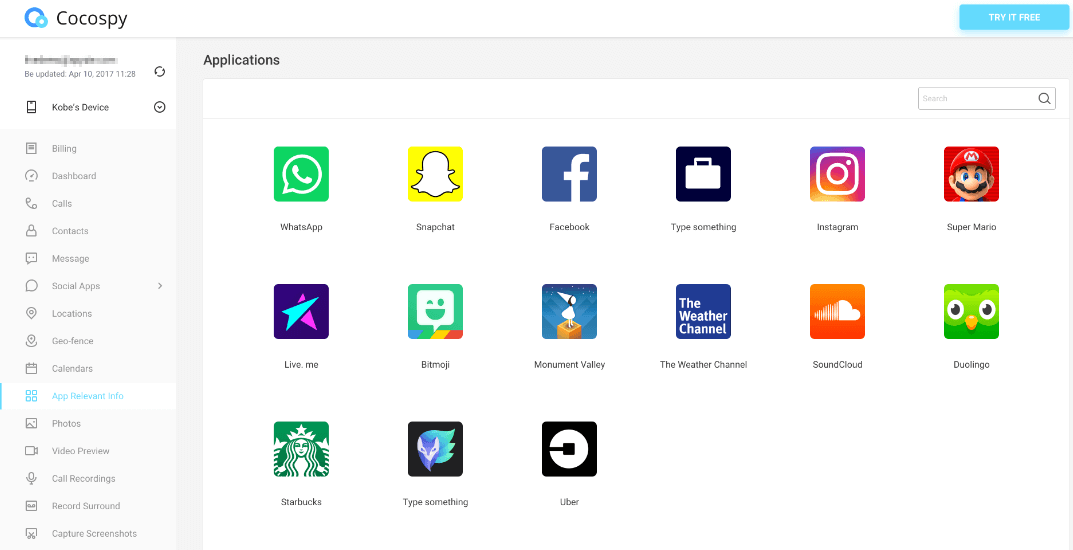 Read: How to Spy on WhatsApp Messages Online For Free
Part 3: How to Remotely Spy on Someone's Android Phone Without Them Knowing
To spy on an Android phone, the Cocospy app has to be installed on it, and this is where physical access is important. Once install the Cocospy app on the target phone, you will be able to use more of the spyware features. The control panel functions like Force GPS and Force keyboard can be activated on the target phone.
When you are dealing with a rooted Android phone It is also important to point out that apps that can be accessed on the phone are the non-default.
These are the apps you can access on a rooted Android phone:
Whatsapp
Facebook
Skype
Line
Gmail and Snapchat.
You can access the following on non-rooted Android phones:
Call logs
SMS
Location
Media files
Keylogger
Event
Notes
Images
Videos
Audio files
MMS
Browsing activity
Wallpaper images
Browser bookmarks
Installed applicatons list
Calendar
3.1: The Cocospy Android Solution
To activate Cocospy for Android monitoring, you need to:
Get a free Cocospy account
Install the Cocospy app
Begin to track the target phone
1. Get a Free Cocospy account
Go to the Cocospy signup page and provide the needed credentials.
2. For the Target Phone
In respect of the Android device, you need to download the app using the URL. Download the app. For additional steps, follow the guide here >>

3. Begin to Track the target Phone
Now that you have installed the Cocospy app, you can remotely access the target phone easily from your preferred display unit.
You can see the Cocospy app demo here.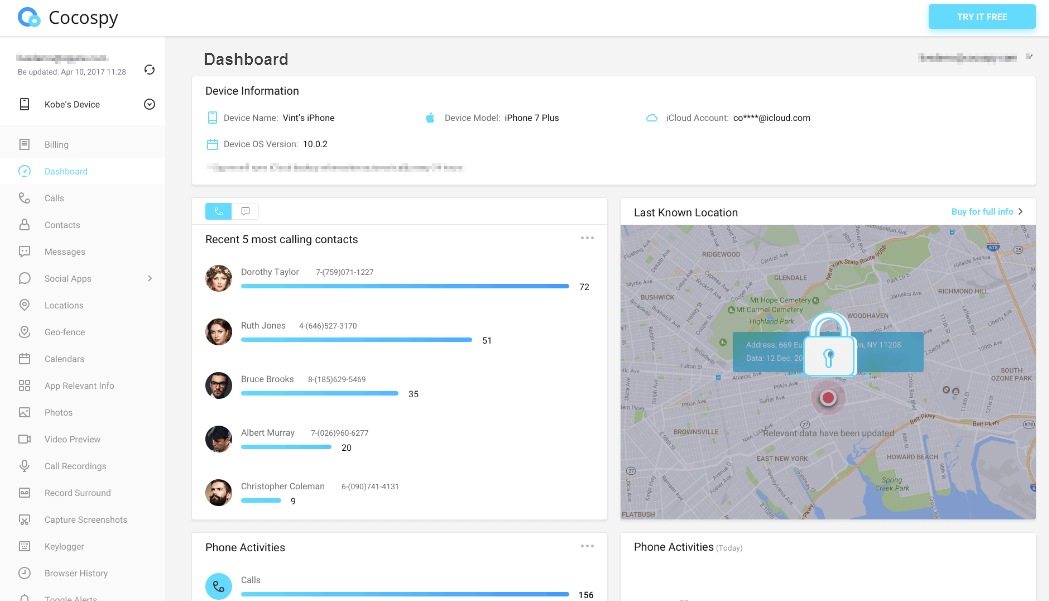 Read: How to Spy on Text Messages Without Installing Software
Conclusion
The best spyware works well when the device matches the recommended monitoring app. Having learned how to spy on a cell phone without having it, you can now monitor the people in your life.