There may be times when you need to hack into someone's Android phone. Perhaps a plan to hack an Android phone is needed to help you identify whether or not a romantic partner is cheating on you. Maybe you need to review how people in the workplace are using their devices and if they are doing so responsibly. You might also be a parent who wants to ensure your kids are using their Android phones responsibly and are not bullying others or are being bullied themselves.
But the challenge that comes with trying to get an Android hack going can be tough. Fortunately, this guide will help you understand how to hack someone's Android phone remotely. You will learn here about how well a hacking process can be utilized to get information off of another person's Android phone.
Can't Miss: How to Hack Mobile Phones with Computer
Part 1: How to Hack Android Phone Using Another Android Phone
There are several steps that can be used to get into another person's Android phone. These can all work even when you have a different Android phone in your possession:
1. Sign up for an account for free.
You can find an extensive assortment of groups out there that offer Android hack services. You can find Android hacking apps like Cocospy, Spyzie, Hoverwatch and many others of value. These programs are useful, but you must look at a few points when getting one of these service providers to work for you: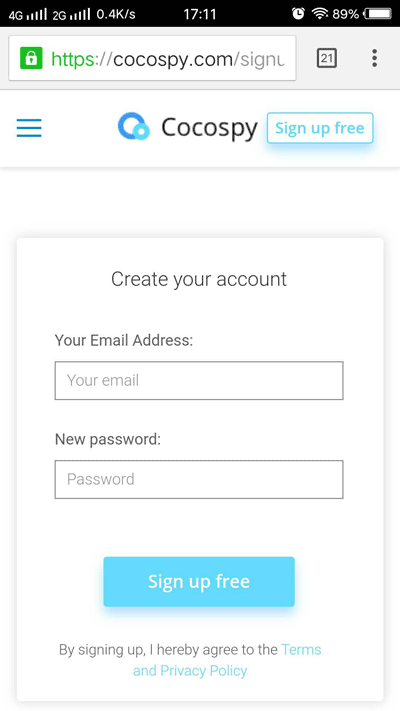 Look at the compatibility that these programs have with certain mobile devices. Many services only work on Android devices with certain versions of the Android operating system installed on them. Cocospy works on Android 4.0 and greater devices, for instance.
Check out the free demos that come with these services. The demos that are available give you details on how the system you will use works and what you can get out of it.
Compare the features on the program versus your needs. Be sure the program you choose fits in with your requirements for hacking into a phone.
Check Cocospy official website or live demo here >>
2. Install the program on the Android phone.
To start, take the appropriate URL that is provided to you and enter it into the target device.
The URL that you get from a service will include a link to download the program of interest. The URL must be entered into the targeted device properly for the Android hack to work.

Related Reading: How to Hack Someone's Cell Phone with Just Their Number
Be advised that you would have to use this step no matter what Android device you have. There is no way how you can get an Android mobile hack to work without getting access to the target device. This is another story for the iOS setup, what with the iCloud system working for many remote monitoring needs there.
The URL should be unique and copied directly. The good news here is that the URL in question should not be too lengthy. Just enter in the proper characters into the program and you will get the device you want to monitor managed accordingly.
2.1 See if the device has been rooted or not.
You can use a program on a non-rooted phone to review all the basic contents featured on that phone. An account will let you review details such as:
Contact information
Web browser history
GPS data
Phone call data including when someone called another person
SMS
Call logs
Check more features here >>
You will have access to more functions when you root an Android phone. Some of the added things you will get when you hack Android phone systems that have been rooted include:
The ability to access non-default apps
Reviewing phone calls
Force keyboard and GPS functions
Details on any photos one sends or receives
The rooting process is unique for each Android device. Be sure you look at how well the process works for the device you are interested in loading a program onto.
Also Read: How to Hack Instagram Account on Android
2.2 Install the app onto the device.
The installation process should only take a few moments. After this is finished, be sure the link that opens up to app is closed off. This keeps a person from trying to access the program. The deletion process for that icon should be done automatically.
2.3 View target phone activities.
Get onto your control panel and see what is going on with the phone. Use your Android phone to reach that control panel.
You can now use your own Android phone to enter a control panel to remotely check a phone. To use this, look for the information on the phone you are monitoring. You should have listed details on the targeted phone earlier on in this process.
The control panel will then review information on all the things working with the device at a time. This panel gives you full information on everything happening at a time, thus ensuring you have more control over the Android hack experience.
The good news here is that the design and layout on this program is easy to follow. Be certain that you look at what you will get out of the program and that it works according to the needs you might have.
Check Hoverwatch official website or live demo here >>
Conclusion
You must look at how well the hacking process will work for you. Be certain that you use the proper steps for getting a device hacked so you can get the most out of any device you wish to track.
The process for reviewing a phone should not be tough to work with. You should still be aware of how well the system works and that you have a great plan for making it work to your general liking.