You need to know what your kids are doing online: who they relate with, and who is on their contact list is important. A non-disruptive spyware is an excellent utility to monitor the people in your life. This FlexiSpy review throws more light on how to track the phone of your employees or loved ones.
Part 1: What is FlexiSPY?
The demand for mobile phone tracking has given rise to a huge market for phone tracking software. FlexiSpy comes to the market with a spyware that has distinct features and some similarities to the competition.  It is compatible for use on Android and iOS gadgets if you are interested in call tracking, message tracking and listening in on calls.
This spyware has been in the marketplace for a long time compared to many of the new products, such as Hoverwatch and Spyzie. The cost of FlexiSpy is one that surely trumps many alternatives that are out there. Many Flexispy reviews are spot on in identifying it as out of the league of budget shoppers.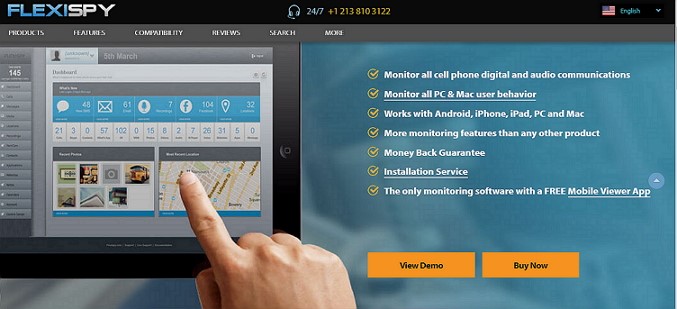 1.1 FlexiSpy Introduction
When you install a FlexiSpy spyware, you can be sure that the target device will not be disrupted in its normal usage. Once installed, you will be able to monitor effectively the target phone, access message apps, user location and browsing activity.
FlexiSpy app is suitable for a range of devices, and this is notably computers, Android and iOS mobile phones and gadgets. However, since a huge chunk of the mobile phone market is controlled by Apple and Google Operating Systems, spyware makers focus on these
The legion of traditional media outlets have highlighted several FlexiSpy reviews over the years, The likes of  NBC,  Washington Post, Times of London, among others have featured the FlexiSpy app.
1.2 Is FlexiSPY legit?
Spyware usage is legitimate as long as it is installed on gadgets that the users have a legal access right. Installing FlexiSpy app on the gadgets of third parties can lead to legal liability, and must be avoided.
Parents are legally allowed to install the spyware on their kids' phones; employers can do same on company property. And in some cases, partners can do same on the gadgets of their spouse.  Whenever you are in doubt, please consult your attorney before you install a spyware.
1.3 Is FlexiSPY detectable?
When you install FlexiSpy, it is undetectable by the phone user. If you are using an iPhone that was jailbroken, the Cydia App should be hidden. On rooted Android devices, the Superuser Icon should also be out of sight.
On completion of FlexiSpy installation, the icon does not appear in the task manager or the list of apps installed. In devices that have anti-virus solutions, installed task killers cannot reveal its presence. In terms of security, FlexiSpy is reputed as one of the most secure spyware out there.
Check FlexiSPY official website or live demo here >>
Part 2: FlexiSPY features
A number of the range of features that FlexiSpy provides to users are top-of-the-ange and reliable. These features are among the most trustworthy that can be found in the marketplace of spyware.
Access SMS/MMS
Emails, messages and videos or GIFs of outgoing or incoming nature can be accessed.
Ambient Recording
The goings-on around the device location including sounds and discussions can be recorded.
Compatibility
The spyware has assured functionality on iOS and Android devices like tablets and phones.
Intercept Calls
You are able to listen in o calls made by the target device and other incoming calls as well. There is support for real-time recording of calls
GPS/ Location Tracing
You can locate where the device user has been all day as well as present location.
App Activity
You can track messages and chats on apps like BBM, WeChat, Viber, Facebook as well as Skype etc.
Read: Top 10 Best Free Hidden Spy Apps for Android
2.1 FlexiSPY Android
Flexispy spyware solution will work on versions 2.3 right to 6.0 of Android.  It is recommended that you check the features of your phone and know what in FlexiSpy might be limited.
When using the call recording prompt, only rooted devices in the Android family can do that. Same applies to social media monitoring.
2.2 FlexiSPY iPhone
FlexiSpy app for iPhones and iPads are compatible for versions right up to 9.0.2. Apple devices need WIFI connectivity for it to be tracked by the spyware.  It is important to check the operating system to know the supported features.
Apple devices need to be jailbroken before FlexiSpy features can work on them
2.3 FlexiSPY Keylogger
The FlexiSpy Keylogger enables you to monitor the keyboard strokes of the target device. You will be able to copy the username and password for the websites or apps accessed by the device.
The mechanism is simple as the keylogger stores all the information you will need to access. The dashboard of your spyware display retains all the information you will need.
You May Like:
Part 3: How does FlexiSPY work?
FlexiSpy offers two levels of target device monitoring known as the Premium and Extreme packages.  There are a few technical steps that need to be in place to access the advanced features of the spyware.
The device targeted needs to be undergo jailbreak for iPhone, and the Android needs to be rooted for the spyware to have access.
On the Extreme package, calls on the targeted device can be intercepted, and recorded with the background noise. For calls to be intercepted, a 3-way function is activated. As the target phone receives a call, a notification goes to your phone, so that you can connect to the targeted phone.
Call interception on FlexiSpy does not disrupt the call as the listening-in happens with the user on the target phone unaware. There is no showing up on the user's call logs either as you connect automatically.
On the Premium package, the difference lies in the inability to support call recording, interception or recording of ambient noise. Other services are supported for chat tracking, SMS/MMS reading, images/video downloading, as well as access to contacts.
An outline of FlexiSpy features can be consulted here for more information. 
Part 4: How to Use FlexiSPY?
For users who want to avoid the trouble of iPhone jailbreak or rooting of the Android device, FlexiSpy can take care of that. Such service is an additional $39.99 in charges that you must pay.
When recording a call, it is advisable that you make sure that your recording device is of good quality. A VLC Media Player is better for recording than a Windows Media Player option. Always make sure that your connection settings are good before you record.
For a device to be rooted requires that you physically handle the phone and initiate a call to Flexispy support. A technical staff of FlexiSpy who understands the process will guide you through. For DIY jailbreak or rooting, you need to be sure the device you are using is compatible with the spyware.
Here is a link to the compatibility guidelines for FlexiSpy app.
Part 5: FlexiSPY Pricing
The pricing for FlexiSpy app is available at two levels:
FlexiSPY Extreme
Comes with a keylogger at no extra cost and has a reputation that is not rivaled in the other spyware
3-months subscription is available for $199
1-year subscription for $340.
FlexiSPY Premium
Designed like most spyware options without call interception functionality
Same package as Spyware for PC
1-Month subscription costs $69
3-months subscription is $99
1-year subscription is $149
Check FlexiSPY official website or live demo here >>
Conclusion
A number of FlexiSpy reviews highlight the distinctive nature of its call interception and recording functionality. This is one standout feature that makes the spyware unique. In terms of value-for-money, it has all it takes to justify its price tag.